Potential Mistakes and How to Avoid Them
We are excited to launch this pivotal webinar with Dr. Amos Yahav.
The webinar discusses the path for success with bone cements, for existing and new bone cement users. Dr. Yahav shares tips gathered through more than a decade of experience and tens of thousands of clinical cases.
We have added a unique link which allows us to share with you which attendees signed up from your activity.
Please share this information about the event with your audience via e-mail and social media:
TIPS FOR SUCCESS WEBINAR WITH DR. YAHAV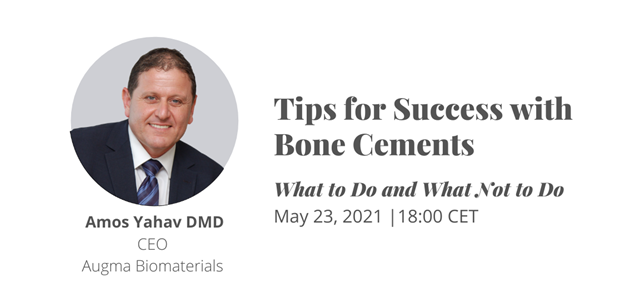 In this webinar, Dr. Yahav will cover the potential mistakes with Bone Graft Cements across multiple surgical procedures in a format of do's and don't do's. He will focus on aspects of application, general errors, protection and applying surgical protocols along with useful tips.
Learning Objectives
Demonstrate the proper applications of Bone Cements across a variety of surgical protocols.
Discuss the common potential errors in depth.
Share useful tips for beginners, intermediary and professional users of Bone Graft Cements. The webinar will take place on May 23, 18:00 CET on Zoom. 1.5 CE credit will be provided to U.S. Participants. Read more and register now:
https://us02web.zoom.us/webinar/register/6616196073174/WN_bgxTEJdZTXyZF9nLgCmpOg